PRE-LICENSING
2 Hour FL SAFE: Licensing Education (F.S. 494) Click the link below to view schedule.
6830 2 Hour Florida SAFE Online Instructor Led (OIL)
The cost is $65.00 BUT this cost is waived for those that take Jim Montrym's 20 hour class (Live Class OR Webinar – Does NOT apply to 20 Hour Online Instructor Led).
Click Here to VIEW 2 Hour FL Course Schedule
$349  20 Hour Online Instructor Led PE
$449  20 Hour Online Instructor Led + National Test Prep (Bundle Discount)
Click HERE to Register for 20 HOUR National Class Online Instructor LED (OIL) 

Jim Montrym's National Mortgage Loan Originator School and Mortgage Research, Inc. D/B/A Mortgageeducation.Com have partnered up to handle all of your mortgage education needs.
OIL Weekly Course Calendar
Online Pre-licensure Education:  The NMLS requires that PE Online Courses CANNOT be Self Study. These courses are called Online-Instructor Led (OIL).
Our courses generally take 2 to 4 hours and start throughout the week.
The 20 hour PE requirement consists of 6 courses.
You can take an OIL course any day it is scheduled!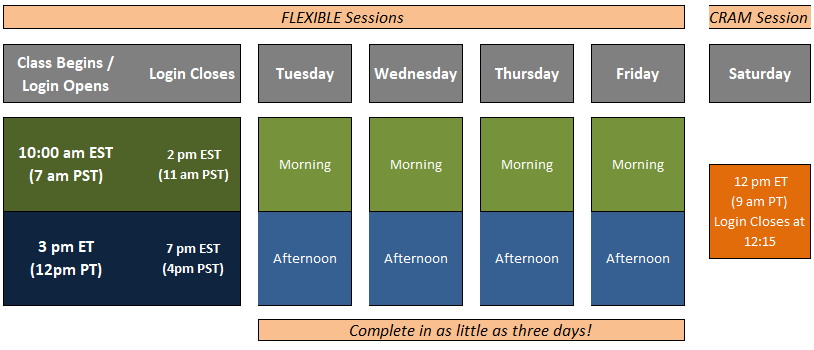 It is IMPORTANT that you read ALL instructions about course completion time requirements.
DOES NOT INCLUDE: Audio files, practice exams, or the Florida 2 Hour Course (these items are only available with the 2 formats offered by Jim Montrym – Live Class and Webinar)
Since this course is an online instructor led ("OIL") course, you will have access to instructors through office hours, forums and email.   You will be able to work on this course anywhere you have a high speed internet connection.
By NMLS specifications,you will have to pause and wait for instructor feedback at times during the course.   Our flexible system allows you to purchase and then wait as long as you want before starting any module.
Unique Modular Lesson Plan.  We have a "modular" format where the 20 hour requirement consists of 6 courses. You can start any course at any scheduled time. This means you can finish in as little as 3 days or spread out your time over a month or more.
Summary Description. The NMLS requires all providers to offer online PE courses in the OIL format. Key features include
1.  Defined start and end dates
2.  Interaction with the instructor and students through forum activities
3.  Progression as a cohort.  At times you will wait for instructor feedback before continuing.
---
Company Information:                     Tampa Class Location:
3943 East Eden Roc Circle                       Chase Suite Hotel Tampa
Tampa, FL  33634                                      3075 N Rocky Point Dr
Phone: 800-735-8565                               Tampa, FL 33607
Fax: 813-885-6931                                     Phone: 813-281-5677
Email: info@brokerschool.com              PRIVACY POLICY
www.brokerschool.com                            REFUND POLICY